Volunteering with the YMCA
12|20|17
After donating gifts for our Adopted Families, on Wednesday, Dec 20th, MorInvolved volunteered to help our local YMCA sort through, organize, and fulfill gifts for additional Giving Tree family wishes that the YMCA assists during the holidays. More photos are available on our Facebook page.
We were able to see the amount of work that goes into this program and dedication from volunteers who run the Adopt-A-Family program. It was a pleasure to volunteer to assist our local YMCA this holiday season!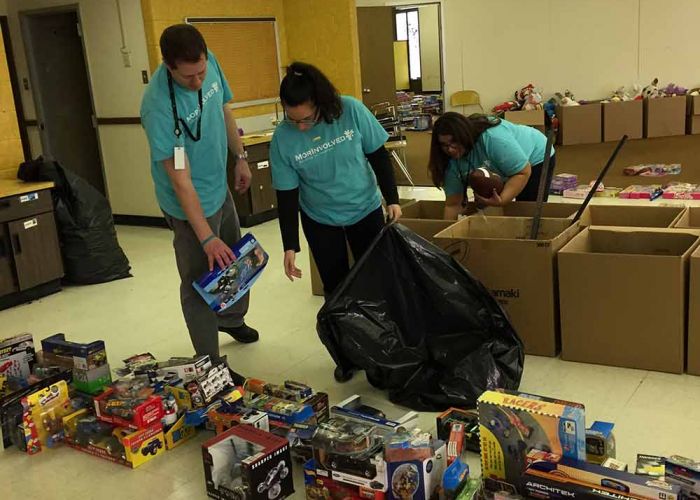 Adopt a Family - YMCA
12|18|17
MorInvolved has Adopted-a-Family at the local YMCA - we encouraged employees to choose a gift tag off our Holiday tree and purchase items for families during the holidays. Check out more photos on our Facebook page.
A big THANK YOU to everyone who participated in our MorInvolved YMCA Adopt-a-Family Program. We were able to collect many gifts for 5 families this holiday season! We are so honored to have participated in the YMCA Holiday drive and to help our community in need.
Wishing our community a safe and happy holiday!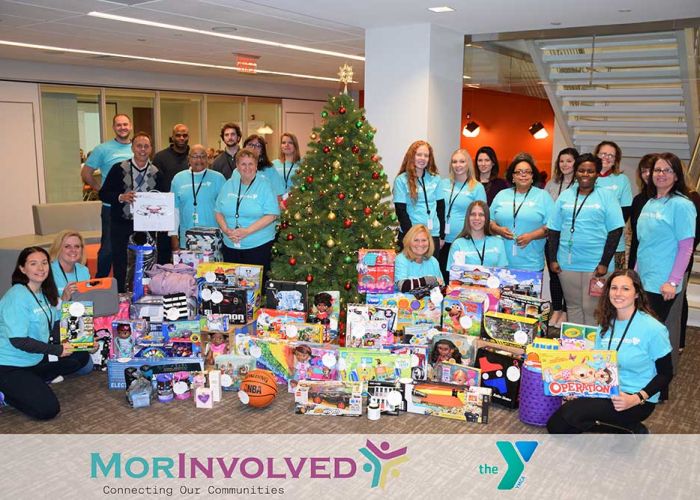 Toys for Tots
12|14|17
Supporting the Marine Corps Reserve Toys for Tots Campaign by donating money or toys.
We encouraged employees, friends and family to help less fortunate children celebrate Christmas by donating to the U.S. Marine Corps Reserve Toys for Tots collection and monetary donations were collected to purchase items.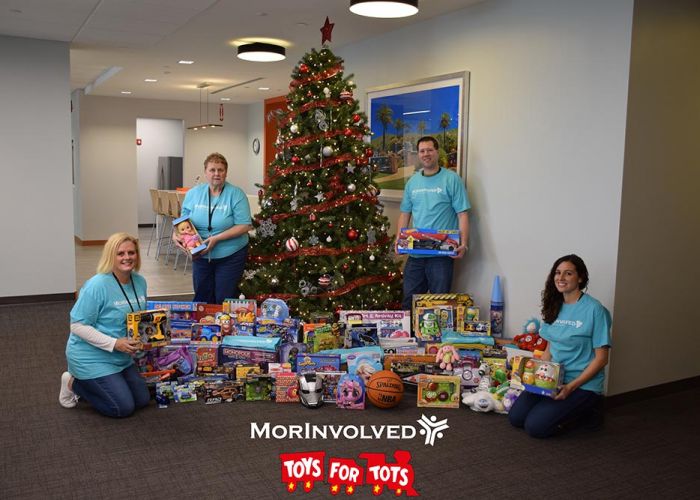 Donation to A Woman's Place
11|22|17
MorInvolved delivered donated items for women in need to A Woman's Place. Donation Items include: Diapers, bleach, cleaning products with disinfectants, kids' snacks, women's and girls' pajamas, adult slippers toiletries (conditioner, body wash, deodorant, toilet paper etc).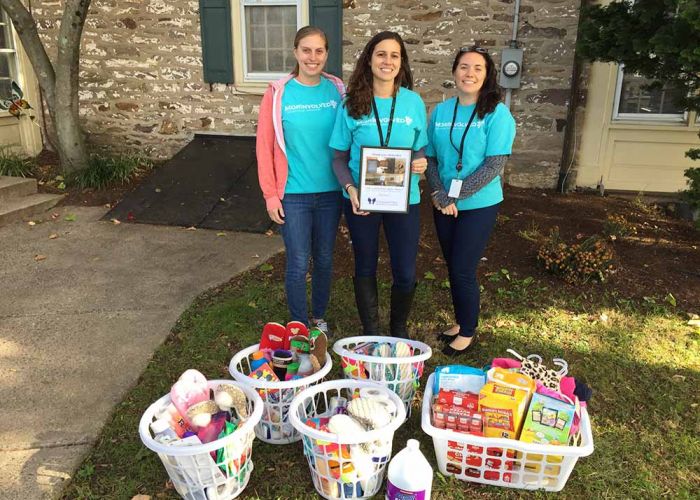 Sunday Breakfast - Feeding the Homeless

11|16|17

Sunday Breakfast Rescue serves three free meals a day, 365 days a year to homeless men, women, and children.
This November on behalf of StoneMor and their employees, StoneMor Partner's donated 5 turkeys to Sunday's Breakfast Rescue Mission. We encouraged employees to donate to our food drive on jean day for Thanksgiving meals served at the shelter and collected 14 boxes of boxed and can goods.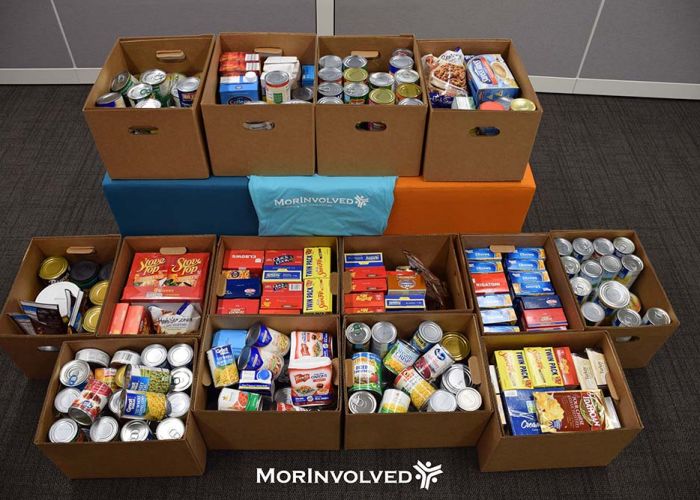 Walk for Alzheimer Association
11|12|17
MorInvolved and our volunteers enjoyed being a part of the world's largest event walking, raising awareness and funds for Alzheimer's research and support. It was inspiring to see the amount of people that came out to walk to support a good cause to End Alzheimer's.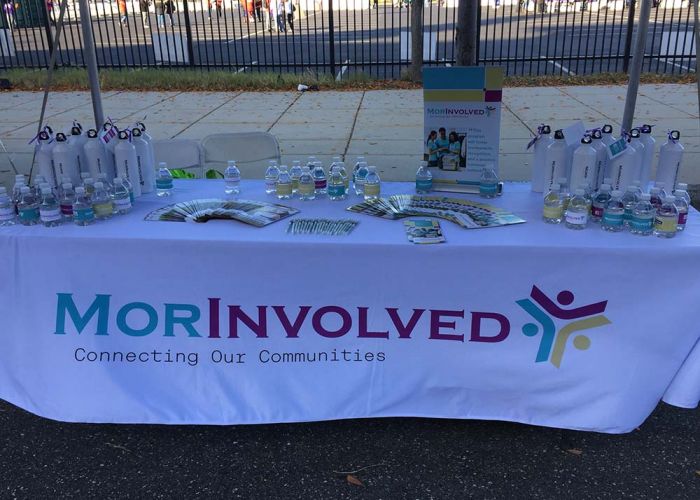 Adopted a Room at A Woman's Place

10|31|17
On behalf of StoneMor and our employees, StoneMor has adopted one of the 8 A Woman's Place shelter rooms. These rooms are provided to women in need. Adopting the room includes providing items such as drapes, paint, blankets, furniture and decor.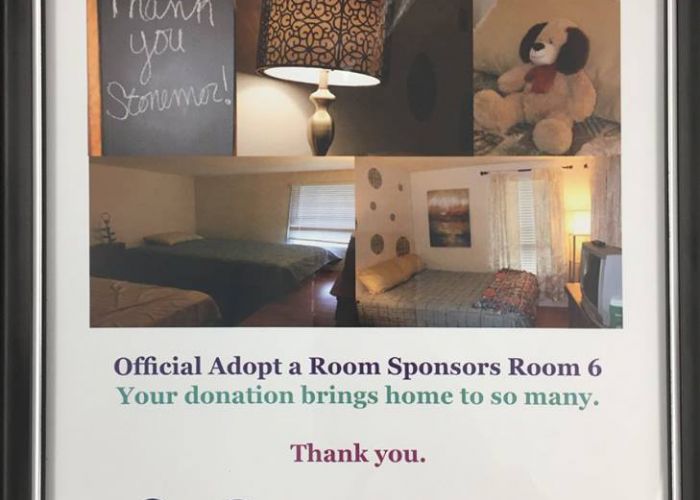 Disaster Relief for Hurricane Maria & Employees affected by the tragedy
10|31|17
StoneMor supports employees and the American Red Cross recovering from Hurricanes Irma and Maria in October.
StoneMor employees donated $12,000 to our employees in Puerto Rico affected by Hurricanes Irma and Maria. In addition to those donations, StoneMor Inc. matched those funds of $12,000 and made an additional donation to the American Red Cross - Puerto Rico Hurricane Relief in January 2018.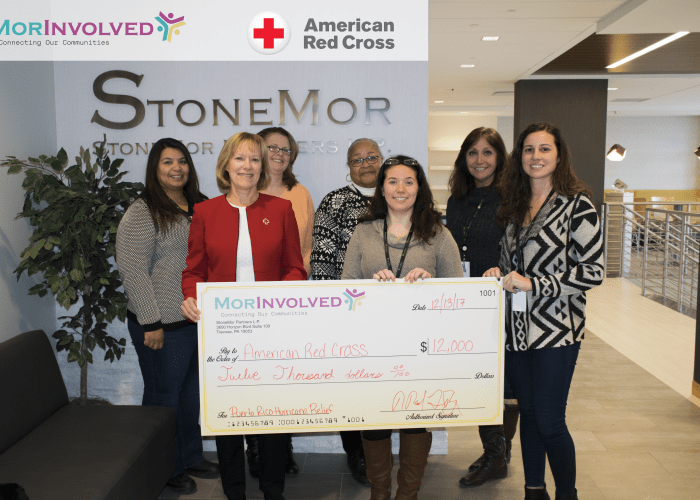 'Paint the Town Purple' in Bristol Borough
10|3|17
Employees and friends of StoneMor volunteered to join A Woman's Place to raise awareness for Domestic Violence Awareness Month in Bristol Borough on Saturday, October 7, 2017. It was a pleasure spreading the word and raising awareness by 'Painting the Town Purple' hanging ribbons throughout the Borough, and providing flyers to local businesses. See more photos here.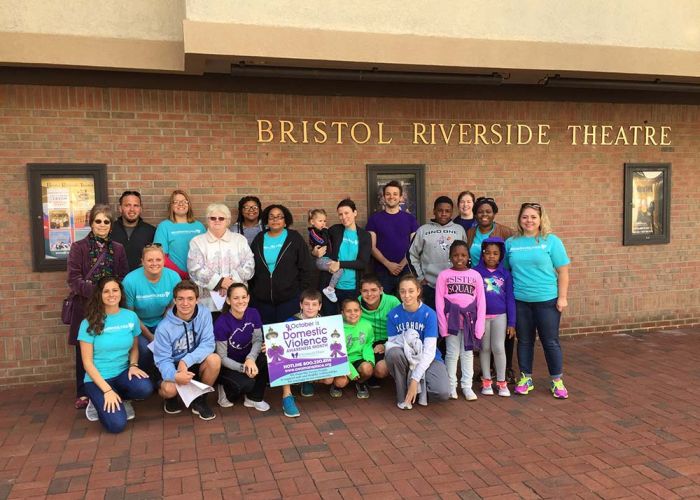 Disaster Relief for Hurricane Irma

9|27|17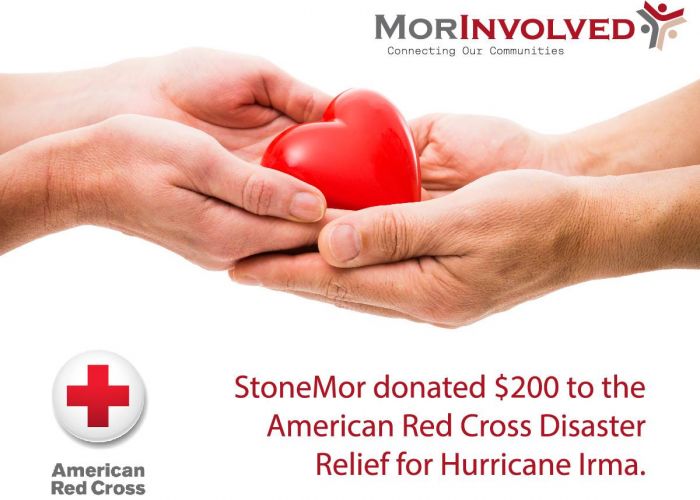 American Red Cross - Hurricane Harvey Relief

9|14|17

Wearing jeans for a cause. Using money raised on "Jean Day Thursdays" and through employee donations, MorInvolved was able to donate $500 to the American Red Cross for the families affected by Hurricane Harvey.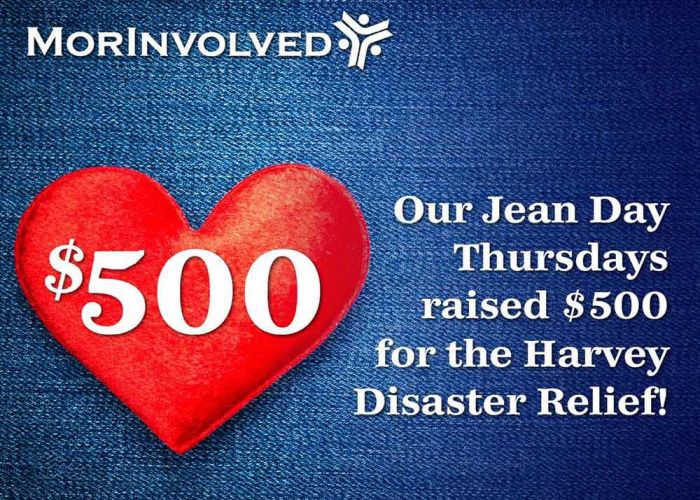 Cradles to Crayon's Back-to-School Event

7|27|17

Employees, friends, and family created 80 handwritten cards of encouragement for the upcoming school year to underprivileged children going back to school.
Each year Cradles to Crayons has a Backpack-A-Thon, assembling and distributing 30,000 Backpacks during the month of August. Cradles to Crayons aims to include a hand-made card to add a special touch to help the children receiving the backpacks feel optimistic and excited about learning during the upcoming school year.